This page contains information on my abstract for ATypI 2016 in Warsaw. For appropiate OpenType coverage, this page is viewed best using Mozilla FireFox.


---
Content
---
---
Historic, linguistic and typographic context
---
In 16th-century Prussia, letterpress was widely used as a mass medium to spread new religious and academic concepts (mainly of the growing Protestant faith and pietism). During a timeframe of roughly 250 years, books and leaflets were printed in various letterpress offices, centered around places such as Halle (Saale), Gdansk, or Koenigsberg (present-day Kaliningrad), the latter being of special historic interest for her role in Polish and Lithuanian publishing. While the whole region served as a base for protestant missionaries, she was also an exchange hub for scholars from all origins.1
In the 17th and 18th century, Latin was still a vidid world language used by scholars throughout Europe. During this period, peaking in the 1690s, Roman typefaces were used within the context of the common German blackletter to distinguish words or parts of words from Latin or Romance origin. The decline of 'style-switching' in later Prussian letterpress converges with the growing dominance of the national languages in printed media, gradually amplified by increasing nationalism in the respective countries.2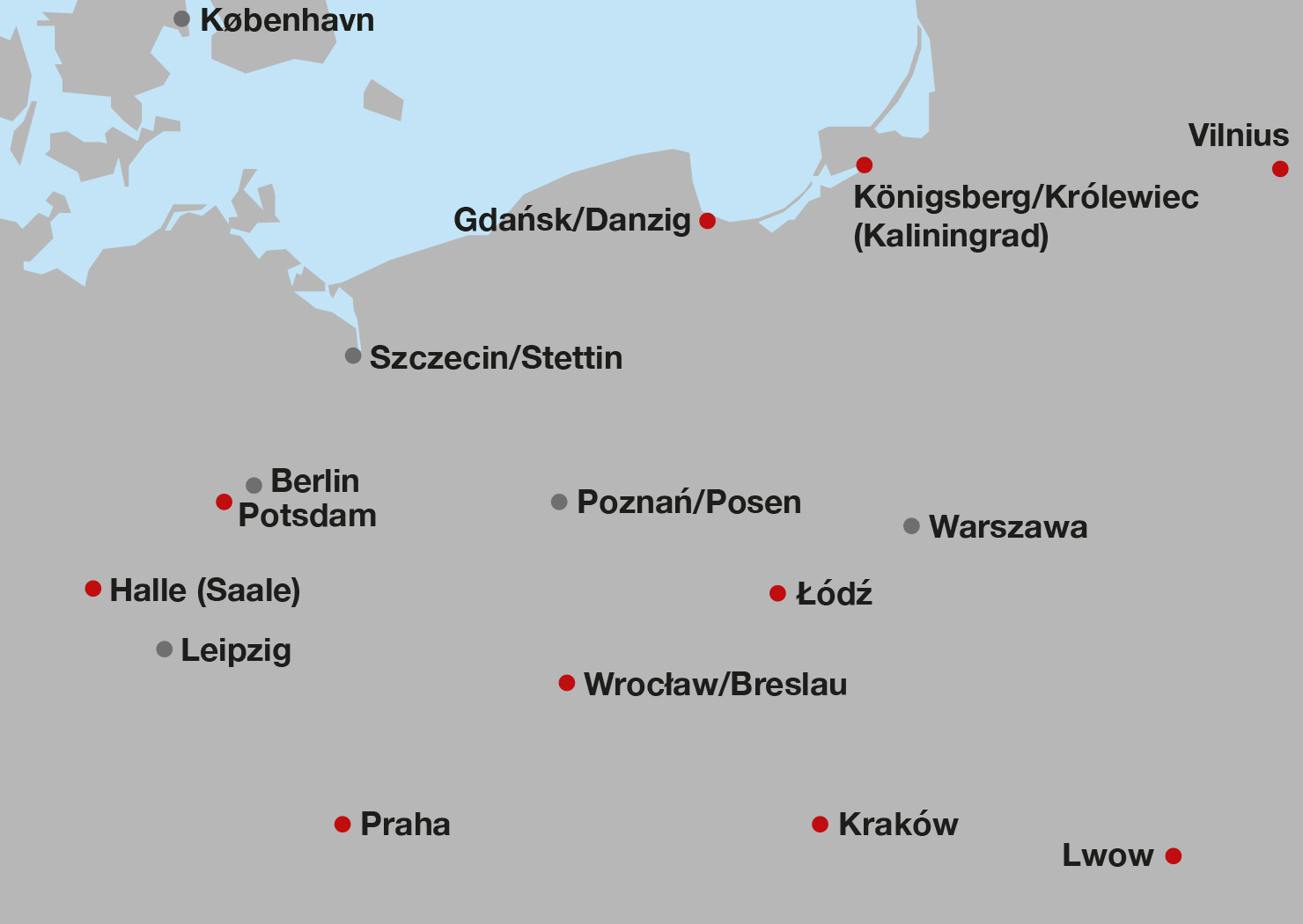 A map (without borders which have drastically changed over time) of the historic region of Prussia, Poland, Lithuania.
Contrary to Meiji Japan, where an existing script (Katakana) was standardized to spell all non-Chinese loanwords, Prussian bookprinters used 'style switching' to provide the desired linguistic clarity. Being a part of my current research on multilingual typography, I would like to share a theory which may be of special interest to methods of republishing and re-contextualizing original material from this context.
The phenomenon is well-rooted in contemporary discourse3. However, it is either rarely contemplated that the German-speaking community, contrary to speakers of Roman languages, had adopted Latin as a distinctively foreign language, encouraging them to develop their own unique way of typographic mark-up. Apart from that, blackletter typography was also temporarily common to Polish and Lithuanian media. I am, in turn, discussing this complex of subjects under the wing of multilingual typography, because Latin was, even though a firm element of written German, regarded an international language ('lingua franca') before the early 1700s.4

The first sample was chosen to show a strong sense of the style-switching/multi-style phenomenon.